One of the best gaming laptop and most awaited model by Gamers that is ASUS ROG Zephyrus G14 has been released (In India, Asus rog Zephyrus g14 release date falls on 6th August, Amazon Prime day with the exclusive sale by Amazon) with almost nil competition in the market and what makes its leading game laptop of the time is, its AMD Ryzen 4000 H processor for smooth gaming and light compact design.
For the years, perhaps not so popular for its regular use among professionals, but when talking about its gaming experience, it has been above the expectations of the users of that time and ASUS also has been able to leave a mark in the gaming sector via its laptop, from the beginning.
Read More from MeDepZa
While in the recent years' Laptops were meant to be a desktop replacement, but still bulky and garnish with the design for gaming on budget not for gaming on the go; there, on the other hand, ASUS has surprised the gamers, eradicating all the loopholes of customer satisfaction, be it for the designed, gaming performance, sound quality, battery life or screen satisfaction, everything has been fined tuned, yet budget-friendly.
A Quick Verdict
The G-14 is the best compact gaming machine for regular gamers for heavy gaming. Due to compact as well as the light design we weren't sure it will cut the mustard but it is a satisfactory gadget for heavy gamers under the laptop segment. Thanks to ASUS for yet another delighting series of Rog Zephyrus without compromising its cool features.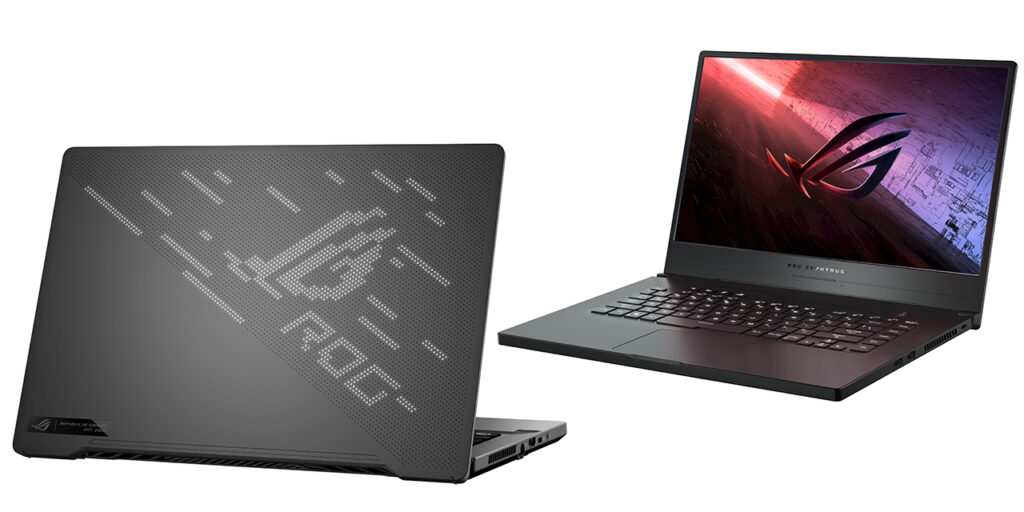 Its long 11 hours of battery life, AMD Ryzen-H 4000 processor, lightweight 1.6 kg, 14-inch FHD 1920 x 1080 px resolution screen, and high-end sound output, what else are you looking in a gaming machine.
Asus rog Zephyrus g14 specs:
With all things said, lets' take an overview of its feature that the company claims it provides in G-14, and then further you will see what we have got on testing this laptop and you can easily compare and make the decision on your whether you should opt for this gaming laptop or not. Keeping its user in mind and the price range for this segment, ASUS has smartly designed its G-14 laptop which not only an optimal device for a regular gamer, but a regular user since due to its lightweight it can be used as a notebook as well.
Check out all the technical specifications of ASUS Rog Zephyrus G-14.
| | | |
| --- | --- | --- |
| Laptop Class: | Gaming | |
| Launch Price: | $1,449 | |
| Asus Rog Zephyrus G-14 price in India (Expected): | 1.95 lakhs | |
| Touch Screen: | No | |
| Backlit Keyboard: | Yes | Backlit keyboard means, you need not struggle when dark, rather you can easily distinguish between keys. |
| Weight: | 3.52 lbs (1.6 Kg) | Lightweight for easy carry and hold overlap for comfortable long last playing/ using. You can use it as a regular notebook and carry it around easily. |
| Screen Size: | 14 inches | |
| Operating System: | Windows 10 Home | Comes with the most advanced version of Windows 10 inbuilt, hence eliminating all the worries of smart working experience and PC performance. |
| Processor Speed: | 3 GHz | |
| CPU/Processor: | AMD Ryzen 9-4900HS (Octa-Core) | More cores are responsible for better parallelism that means you can perform any task at a time without any lagging in load and user experience. |
| GPU: | Nvidia GeForce RTX 2060 Max-Q | |
| RAM: | 32GB | G-14 comes with relatively more RAM than other laptops in this segment and price range, hence making your gameplay smoother. |
| Boot Drive Type: | SSD | |
| Storage: | 1TB SSD | SSD means Solid State Drive which means you will get 30% faster performance than classic HDD used. This way you get increased performance and fast boot-up. |
| Boot Drive Capacity (as Tested): | 1 TB | |
| Battery: | 4-cell 76WHr battery (11:32 hrs backup) | Powerful battery for long-run operation, whether for gaming or regular use. |
| Native Display Resolution: | 1920 x 1080 | |
| Sharp Screen: | 141 PPI | Videos and images will look amazing with this sharp and clear screen. In addition to that, you can read the text easier and clearer. |
| Panel Technology: | IPS | Variable Refresh Support: Free Sync. |
| Screen Refresh Rate: | 120 Hz | |
| Graphics Processor: | Nvidia GeForce RTX 2060 (Max-Q) | |
| Graphics Memory: | 6 GB | Much bigger graphic memory ensures more memory use for gaming and graphics hence delighting you with the color combination of the game. |
| Dimensions (HWD): | 0.7 x 12.75 x 8.74 inches | |
| Default Ports: | Microphone Jack/ Headphone jack, 1 USB Type C port, 2 USB 3.0 port, Ethernet RJ-45, and HDMI 2.0. | |
| Connectivity: | Wi-Fi 6 and Bluetooth v5 | |
| Wireless Networking: | 802.11ax, 5.0 Bluetooth | |
| Warranty: | One year (1 Year) warranty. | |
Asus rog Zephyrus g14 Disadvantages/ Drawback:
| | |
| --- | --- |
| No webcam: | video calling/ video chat can't be done until you Purchase and attach a portable webcam. |
| No VGA Port: | You won't be able to connect to external Multimedia devices such as TV sets, DVD Players, etc. which can only be done via VGA port. |
Asus Rog Zephyrus G14 [System Configuration]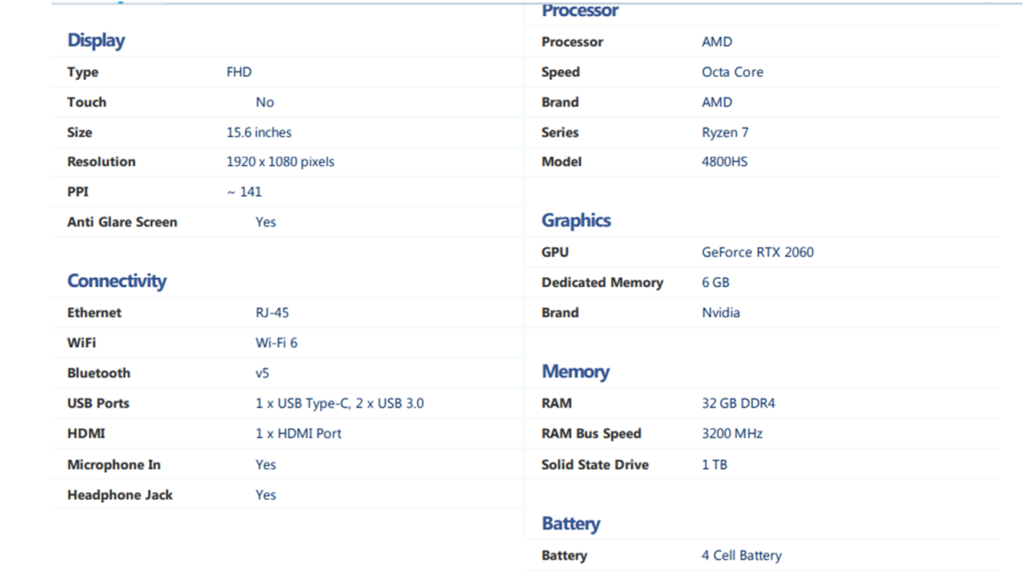 Asus rog Zephyrus g14 review [In Detail]
At this point, you might have come up with the maximum idea about what this gaming laptop offers you and up to what extent will it stand upon your expectation. But wait, to make it clearer for your we have covered some of its mandatory aspects in details, which helps you in deciding about it and if you are also among them who have been gathering your budget for this day to get this great computing cum gaming machine of the fads, then these details are going to clear your mind on certain crucial aspects that are mandatory to be aware of.
Asus rog Zephyrus g14 [Design and Appearance]
Why I have kept this criterion in the first place? Because the first thing first that impressed me is its physical appearance and of course, ASUS has been delicately worked on it. Talking about its elegant milky white color laptop; the first half from the bottom has been kept moonlight white which is slathered over this G-14 Magnesium alloy lid and another half toward the upper end has been kept Anime Matrix Display.
Now, what makes this matrix display outstanding here? Well, you start from your images, gifs, and logo, etc. running on the lid, you can also set your name, timing, reminder, etc. that looks cool and when touched, starts showing.
Opening the display, it automatically lifts your keyboard base due to its stylish flourish along back hinge edge giving it a triangular three-dimension design and hence making easy ventilation to pass through and keeps your hardware/ processor on temperature balance.
14-inch display with backlight keyboard is cool designed and has no compromise with your operation even in dark.
While considering the gameplay and long run use, you can find audio output, earphone port, USB port, ventilation, and the type C port, etc, well designed and embedded.
Asus ROG Zephyrus G14: [Ports and Connectivity]
Looking at the laptop by side, you can easily find several handy ports. On the Right side, you have two USB 3.0 ports and one USB Type C port.
And if something bothers you about someone walking off with the imminently walking machine, then you have a Kensington lock slot as well to physically secure your laptop.
The Left side comes with a power connector port, one HDMI 2.0b output as well as another Type C port using which you can charge your laptop as well. Apart from these, you have an output port for a display to a monitor, a combination of audio jack that supports your headphone and mic.
Surprisingly is that Zephyrus G-14 gives you strong wireless connectivity of Bluetooth 5.0 as well as Wi-Fi 6 (Gig+) and hence you get plenty of gaming speed even without having an Ethernet connection as well as connection with wireless devices such as mice and speakers.
Asus RoG Zephyrus G14 Review: Visuals and Display
Our unit came with a 14-inch display with a 1080p resolution and 141 PPI. ASUS offers its 1440 WQHD resolution with a comparatively lower refresh rate.
you get a decent color and brightness with the panel itself, which on measurement by our colorimeter, found to be 117% and quite better than Dell G7 15 (114%) and Asus ROG Strix Scar 3 (110%). The brightness is also fallen under the above-average segment.
The gaming experience is smooth and judders free. AMD Free Sync has played its role well. Previously you might be irritated with freesync with G14's Nvidia GPU, but recent update by Nividia results in the buttery smooth output.
Asus Rog Zephyrus G14 Review [Audio and Sound]
Asus ROG gives you robust sound quality and great volume operations, and why not, the machine is powered by a pair of 2.5-watt speakers as well as another pair of 0.7-watt powerful tweeters.
You can find speaker output on the front surface of your keyboard and hence, clearly gives your beeps and baas while playing the game or regular operation. This way, you enjoy video, anime, and graphics to the best level.
All of this sound is backed by Dolby's Atoms technology, which is best known for outstanding audio processing.
With the Dolby's atom app you can preset several modes best for gaming, movie, music, and voice-centric media, and so on. Not only that you can also create a custom preset, using its graphical EQ option, that further fine-tunes your taste.
Asus ROG Zephyrus G14 Review: Overall Gaming Performance
When we tested it with heavy games like BATMAN, Origins, and Dooms Eternal, we did have some sort of noise of fan for thermal management but it is for sure that G-14 is way better than other gaming as well as regular laptops with this range.
Assembled with Nvidia GeForce RTX 2060 Max-Q GPU that comes with 6 GB of VRAM, G-14 is a real beast that packs with is muscle into a 14-inch frame.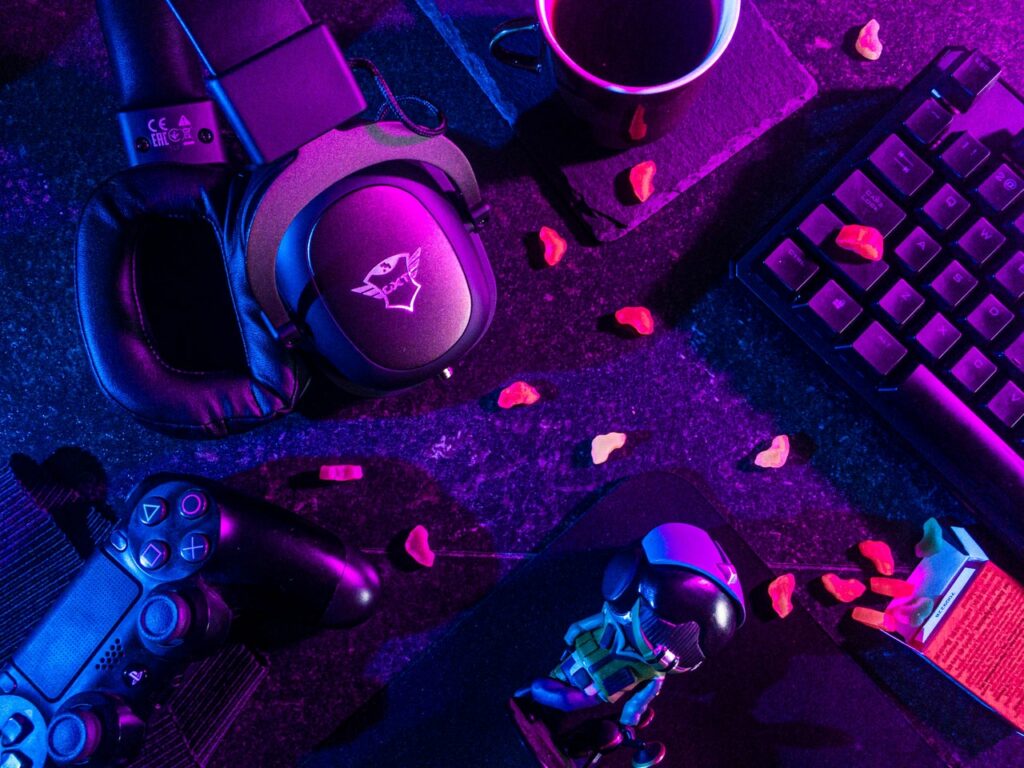 Compatible with AMD free Sync, and Nvidia card, its display gives you a tear-free and judder-free gaming experience. Our further benchmark test confirms its impressive gaming power delivering solid frame rates with a wide range of games at 1080 resolution.
We have tested it with various other games such as Shadow of the Tomb Raider, where it ranked at 49 frames per second (fps); HITMAN where it notched 87 fps and was way ahead of other gaming laptops such as Dell G7 15, ASUS ROG Stix Scar III, etc.
Asus ROG Zephyrus G14 Detailed Review [For Keyboard]
G-14 keyboard and its keys have been given a standard QWERTY layout and the decent spacing among keys that give you the exact feeling of gaming keyboard typing.
Although this PC comes with a compact form and in a smaller size, it may not feel edge to edge Keyboard, and typing on it may feel cramped, but this is compensated by the spacing among keys that helps to activate it and keys goes reasonable deep with acceptably responsive typing feel.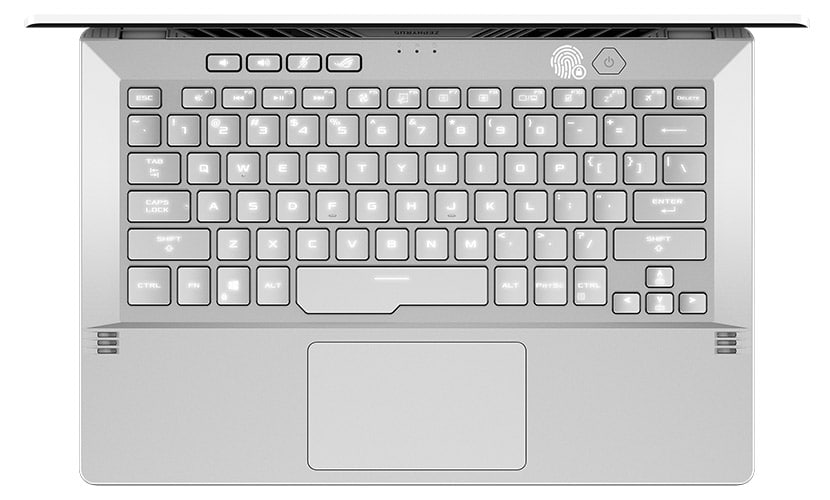 However, the key backlight is a little lousy. Each key has been given transparent lettering and these glow out when the backlight is on. This can fairly be said to be a standard choice. However, each letter appears to be placed directly on the top of each keycap placed and hence doesn't allow much light to pass through, ending up giving each key a shadow spotlight in the center of the letter.
Right above you have dedicated buttons for volume control, Mic muting, and a republic of gamers control panel that allows you for better optimization and performance. ROG armory crate further gives you a hand dashboard interface for managing your CPU, GPU, and fan performance and other settings as well.
Talking about the touchpad, you can find 4.1×2.4 inch touchpad with a glassy smooth surface and distinct clicks, right/ left click distinction. Its multi-touch gestures and two-fingered maneuvers further allow all the works done flawlessly while browsing, working, and playing.
Asus ROG Zephyrus G14 Battery Life
Not yet spoken but a mandatory part of the laptop (especially for gamers) is about the battery backup, and even though we didn't expect about long G-14 battery endurance, due to notorious remarks with all the other laptops, this time it was above the expectation.
Post our 11 hours 32 minutes of continuous web surfing at 150 nits brightness of the screen we were surprised and admired ASUS for the same.
When you check the previous gaming laptop batteries, you can easily find that G-14 simply doubles your battery usability without even a need for a charger or wall output need.
Asus Rog Zephyrus G14 Heat Issues
While undergoing heat test, that included 15 minutes of HD video streaming underside the 88°F and 95°F, the touchpad temperature, as well as Keyboard, stayed cool giving the maximum measurement of 82°F as well as 74°F.
We have tested G-14 even under heavy load and longer periods, like gaming for around 50 minutes, but yet it didn't even get noticeable heat.
So, undoubtedly ASUS ROG ZEPHYRUS G14 has managed to stand on the gaming user experience when compared to other gaming laptops till now.
Final Conclusion
Throughout reading and in-depth Asus ROG Zephyrus G14 Detailed Review, you might have understood about its feature and all-rounder test that might have given you the clear idea whether to choose this Asus ROG Zephyrus G14 this time for gaming purpose (mainly) or not and how far this laptop justifies the claim raised by ASUS about this model, right!
According to us, this G-14 model isn't just a great gaming laptop until now, but it also is the smallest and compact gaming laptop in the market with the lightweight. This way the laptop not only idealizes your usage for gaming but due to its long-lasting battery life, solid and robust audio output, and free lag-free performance, including Nvidia GeForce RTX 2060 Max-Q graphics, the laptop falls under one of the best gaming laptops so far.
It is also true that it has some obvious drawbacks also such as missing webcam and shoddy-looking keyboard, but aside from those relatively minor issues we have encountered in 'Asus Rog Zephyrus G14 review' and testing, this latest gaming machine is an astonishing well-designed gaming machine.